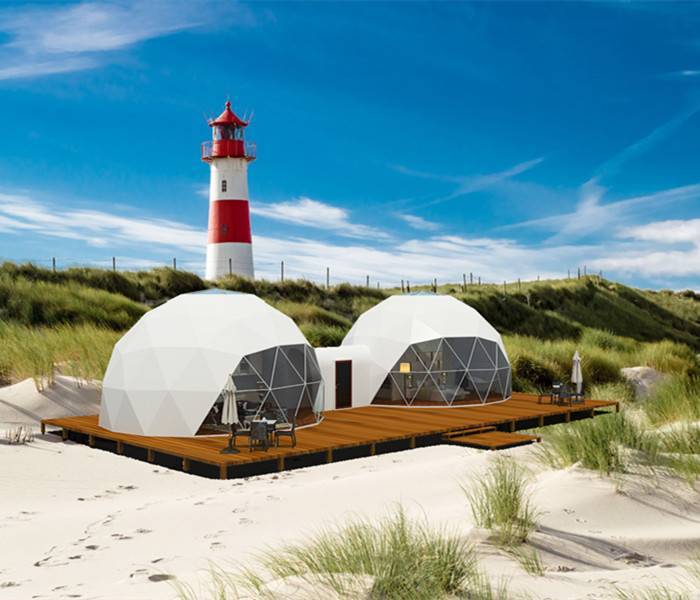 Dự án 1
Date Completed December 2018
Location Jiangmen, China
Project Area 150 square meters
Membrane Material PVDF
Fabric Color White
Shape Cone
Structure Q235 Steel, Hot Dip Galvanized
Warranty 20 Years
Delivery Time About 30 Days after confirm deposit
Payment T/T, LC
Brand BDiR
Place of Origin Shenzhen, China
The project site is located at Dachang Commercial Plaza, Taishang Chang, Jiangmen, Guangdong Province, with a total construction area of 150 square meters. This shape is suitable for outdoor restaurant landscape shading, cafe membrane structure shading, outdoor children's playground shading canopy, landscape entrance and exit shading and other purposes;
Tenslie structure is a structural system that integrates building and structure intact; it uses high-strength flexible film material and supporting system to form a stable curved surface with strong rigidity, and can withstand a certain external load. This kind of structural form Especially suitable for large-scale stadiums, population corridors, sketches, public leisure and entertainment plazas, exhibition venues, shopping centers and other fields.
Specifications
√. Large Span: Tensile Structures can create an expansive covered area, exceed to 200m.
√. Unique Design: Tensile fabric Structure gives architects, designers, and engineers the opportunity to experiment with form and create visually exciting and iconic structures.
√. Various Shape: Changeful supporting structure can make lots of different shapes of tensioned structure with flexible membrane.
√. Cost-effective: About 1/3 to 1/2 lower than conventional structures on costs.
√. Easy to Install: Faster and more cost-effective in comparison to traditional construction projects.
√. Weatherproof: Durable and designed to withstand even the most severe weather conditions. Provide protection from both the rain and sun.
√. Excellent Durability: Fabric tensile Structure is characterized by durability and longevity, can be built in different areas around the world, from the frigid arctic pole to the scorching desert heat.
√. ECO Friendly: Have high sun reflectivity and low solar absorption. As a result, less energy is used in the building, ultimately reducing the cost of electricity.
√. Low maintenance Needs: Tensile membrane Structures require minimal maintenance for clients, whether use of PVC, PVDF, PTFE or ETFE. 
√. Outstanding Natural Daylighting: Membrane is translucent, In daylight, tension structures could offer rich soft diffused naturally daylight space, and at night, artificial lighting can make it bright and colorful.